Welcome to Alfa Romeo of Scottsdale's 4C Review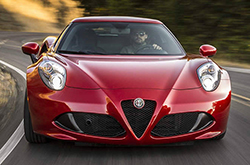 Sexy, sleek and sophisticated, the 2016 Alfa Romeo 4C in Scottsdale will make anyone who lays their eyes on it say, "wow!" And for good reason. Sporting a 237 horsepower turbocharged four-cylinder engine, 2016 Alfa Romeo 4C reviews say it's the perfect pick for shoppers who are looking for a gutsy coupe that offers them an exhilarating ride. Designed with you in mind, you're sure to fall in love with this sensational coupe with the first press of the pedal. Please continue reading our 2016 Alfa Romeo 4C review for more information.
Whether you opt for the 4C or 4C Spider, you can't go wrong with this amazing car! For those who are looking for an open-air feel, the 4C Spider is the way to go! Offering all the same features as the 4C, the Spider is the perfect top-down sport car. Aside from its obvious differences from the 4C's outside, the inside of the Spider comes with carbon fiber accents, vent surrounds, distinctive exterior color-matched fabrics, trims and contrast stitching.
Built for high-powered performance, manufacturer ratings show that the 2016 Alfa Romeo 4C in Scottsdale can go from 0 to 60 mph in 4.1 seconds and has a top speed of 160 mph - impressive numbers that will take your need for speed to new heights, no matter if you're driving the 4C or Spider!
Maximizing performance even more is the vehicle's dynamic suspension which features a double-wishbone design that gives direct and unfiltered feedback from the road. With that in mind, it's no wonder why this sporty car delivers a dynamic, race-car inspired driving experience. Adding to the list of exquisite engineering components is the car's advanced MacPherson suspension that enhances maneuverability even on the windiest roads. In addition, both models come with 6-speed automatic transmissions with a twin clutch and paddle shifters for maximum performance. Made from aluminum and high-strength steel, 2016 Alfa Romeo 4C reviews weren't lying when they said this sports car symbolizes excellence in vehicle ingenuity, engineering and design.
Another notable feature of this racetrack-inspired sports car is four-mode Alfa D.N.A. technology. Drivers can pick from All-Weather, Natural, Dynamic or Race modes to execute changes in throttle response, shifting speeds and traction control. These dynamic modes are geared toward offering an ultimate driving experience that's tailored to any situation.
If you're looking for a fashion-forward sports car that offers agility, style and performance, then this sports car is just what you need. Please stop by our dealership today at 16301 N. 78TH Street in Scottsdale and test drive this amazing coupe today!