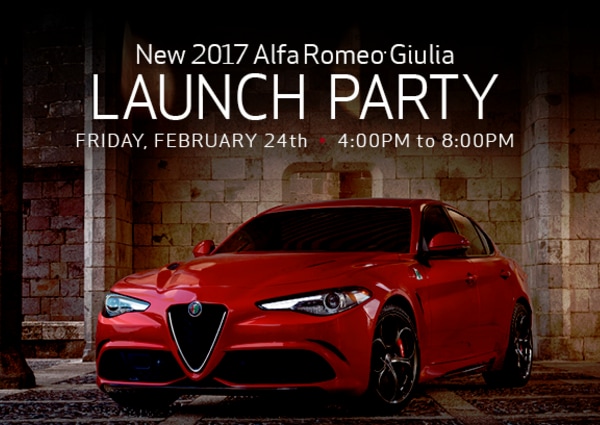 Alfa Romeo of Scottsdale is proud to invite you and a guest to our upcoming launch of the 2017 Alfa Romeo Giulia.
As we've talked about before, the Giulia is an impressive new luxury sedan that is taking Arizona by storm, thanks to its high-powered engine, plethora of high-end, premium materials and amazingly fun-to-drive agility.
Our launch party will be the official introduction of the Giulia to our Scottsdale-area customers, who have been anxiously awaiting the sports car's arrival.
At the launch, you and your guest will not only be able to see the Giulia up-close-and-personal, but also be able to enjoy live Italian music and free hors d'oeuvres. Guests will also receive a complimentary gift bag with lots of goodies to help you remember the evening.
The event will be starting at 4 p.m. on Friday, Feb. 24, 2017 at Alfa Romeo of Scottsdale's dealership located on North 78th street in Scottsdale.
If you plan on attending the event this month, please RSVP here. Have questions? Please don't hesitate to contact us!
We looking forward to introducing you to this one-of-a-kind luxury sports car. See you there!
2017 Alfa Romeo Giulia Launch Party
Where
Alfa Romeo of Scottsdale
16301 N. 78th St.
Scottsdale, AZ 85260
When
Friday, Feb. 24, 2017
Times
4 p.m.-8 p.m.
Admission
Free