Summer is upon us and we are all looking forward to that long-anticipated vacation. If your vacation this year includes a road trip, you want to choose the car that will let you make the most of that trip. Whether you are touring wine country in California, are heading to spend time with family or simply want to get away with the family, the Alfa Romeo Stelvio is perfect for that summer road trip.
Not Your Typical SUV
Let's face it, most of look at SUVs as family cars, not as a sporty, fun way to get around. In fact, it sounds odd to think that an SUV would be luxurious enough, let alone sporty and fun for a long road trip. The Alfa Romeo Stelvio, however, defies all odds. The car, which is named for a remote Alpine passage in Northern Italy, has a surprisingly soft ride and easy response. The car has a sporty look that is more like a sports car than an SUV. It has sculpted fenders and a sloping roofline that makes you want to drive this vehicle.
Power Under the Hood
The Alfa Romeo Stelvio has a four-cylinder, two-liter turbocharged engine that delivers 280 horsepower and 306 lb.-ft of torque using an 8-speed automatic transmission. The car can go from a dead stop to 60 miles per hour in just 5.4 seconds and can reach a top speed of 144 miles per hour. Soon, the Ferrari-developed Quadrifoglio version will be available, a version of this SUV that beat the Porsche Cabrerra in a road test by almost eight seconds. However, even the standard Stelvio delivers significant power which may come in handy in those windy mountains in wine country.
Clean and Simple
It is not just the engine that makes the Alfa Romeo Stelvio the perfect car for your summer vacation. The interior is clean and simple with sleek, modern lines as opposed to flashy additions. The graphics are simple and easy to understand and the round gauges give the dash a classic look. An optional touchscreen system with 3D navigation helps you find your way around unfamiliar cities and the Sirius/XM satellite radio will keep you entertained throughout the trip.
Space for Everything and Everyone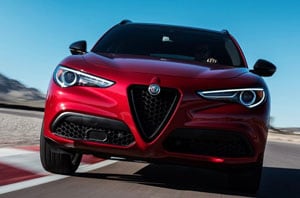 The Stelvio has quite a bit of legroom in the back seats, so even if your 6'4" brother-in-law is riding with you, there is plenty of room. The backseat has two USB ports so your kids can keep their electronics with them at all times while still keeping them charged. There is plenty of cargo room as well to hold all those suitcases and other items you will need on your trip.
Safety Features
There is a rear camera, adaptive cruise control and a lane departure warning system. The Stelvio also has a forward collision alert, blind spot monitoring, rear cross-traffic alert and parking assist sensors to help keep you and your passengers safe. With electronic stability control and hill descent control, the Stelvio offers better handling than some SUVs. All of these features help you know that you and your family are safely traveling no matter where the road may take you.
If you are searching for the perfect vehicle for your family's road trip this summer, the Alfa Romeo Stelvio should be at the top of your list. Stop in today to see what we have available and take a test drive to learn why this is not your typical SUV.