Introducing the New Alfa Romeo
It's a slick name for a slick high-performance SUV, an SUV that is described as being cut from the same cloth as racing vehicles. With a sensual name, you'd expect more than just mere luxury here. They've got to hit this one out of the park with sophisticated style, performance, and pure driving pleasure.
What To Expect From A Test Drive of the Alfa Romeo
You have three luxurious trims to choose from: Stelvio, Stelvio TI, and the Stelvio Quadrifoglio. The exterior of all the designs has been described as "muscular," so expect to feel a burst of power during the test drive. To put it simply, it's going to feel liberating to drive this one. Also described as a masterpiece of engineering and aesthetics, there is more to this one than just meets the eye, and when you test drive the Alfa Romeo, you're going to feel it.
Test Drive Highlights
Expect to feel the effects of the customized brake caliper and wheels: Alfa Romeo Red Brembo performance brakes and mesmerizing 20" Sport aluminum wheels.
Sample the spaciousness of the 40/20/40 split-folding rear seat that can transform any road trip into pure adventure. There's always room in the Alfa Romeo to take it with you when you go.
Exercise ultimate control over your environment with Q4 all-wheel drive.
You'll enjoy driving with an 8-speed automatic transmission coupled with a powerful all-aluminum 2.0L turbocharged 4-cylinder engine (You can hear the engine itself via the Alfa Romeo manufacturer page audio clip).
Best-in-Class 280 horsepower and 306 pound-feet of torque will make you feel like you're out there on the road with the most powerful of high-performance cars, but you're going to get the smooth, at-home feel of an SUV.
For Those Who Love To Race Through Life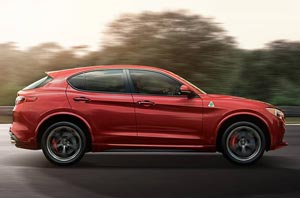 Sometimes people like a world that goes by a little faster, and out there on the highway that's certainly a noble concept to appreciate. After all, we're all busy and need to get where we're going with speed and assurance. The Alfa Romeo is a premium example of what happens when the world's best engineers get together to craft a brand new kind of SUV. It's a high performance masterpiece that will make every trip feel like it's lit up with the whirl of high-performance driving. We invite you to test drive the Alfa Romeo at our dealership today. It's a premium driving experience unlike anything else in the world today, and other SUV makers need to take note of the innovations of this one. Not everyone who drives an SUV wants to steer away from high-performance specs. Some of us want the convenience of an SUV with the exhilaration of a sports car, and that's what they've done here. Test drive it today and feel the power of luxury.