Keyless start and entry is no longer part of a futuristic world. Thanks to innovative technology, Alfa Romeo is pleased to offer a safer entry and a smoother start. Like all new products, keyless start and entry may take some practice before you are totally comfortable with it.
Although you learned the basics at the dealership, your excitement over your new Alfa Romeo may leave you looking for a few helpful refresher tips. Here is some basic information about your Alfa Romeo's keyless start and entry devices that you might find useful.
Locking and Unlocking Your Vehicle with Your Key Fob
Your key fob has several distinct functions including operating the keyless entry and start functions. Always remember that in the event of an emergency there is a physical key located inside your key fob. It will unlock your doors and start your vehicle. Unlock your doors and trunk with your key fob. When you press unlock once the driver's door unlocks. Press it twice within one second to unlock all doors and the trunk. Using your vehicle's menu located in the Information and Entertainment System, you can program your unlock button to work several separate ways. Program it to unlock all doors on the first press. If you prefer, activate or deactivate functions like activating the interior light when unlocking the doors, or flashing the turn signals when you lock or unlock the doors.
Lock your doors and trunk with a brief push of the lock button. If activated, this turns off the inside lights and flashes the turn signals. Even if one or more car doors remain open, pressing the lock button works as soon as they close. With your key fob inside the vehicle, pressing the unlock button releases your locked doors. Open your trunk lid by quickly pressing the trunk lid button on the key fob twice. Your flashing turn signals let you know your trunk is open.
Start Your Vehicle Without A Key
Although you don't need to press your key fob to start your engine, the key fob does need to be inside the vehicle with you for the vehicle to start. If you have an emergency, don't forget the physical key inside your key fob starts your engine. There are several ways to start your vehicle's systems using keyless methods. Start your engine by pushing the start/AVV button and stepping on the brake at the same time. If you just want to turn on all electrical operations, including the inside lights, just press the ignition button one time. This will not start your vehicle's engine because you did not press the brake at the same time.
Hit the stop button to turn your engine off and lock the steering. If your start button is in the on position with the engine off and your vehicle remains in park for over 30 seconds, the start button reverts to the off position automatically. Once started, your engine continues to run even if you remove the key fob from your vehicle. Never leave children unattended in a running vehicle. Start your vehicle remotely by pushing the engine button twice in five seconds.
Additional Functions Available Using Your Key Fob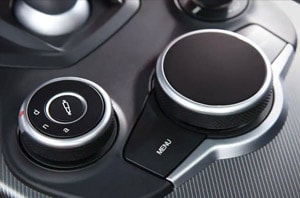 There is a panic button built into your key fob. In the event you feel your safety is at risk, hold the panic button located in the middle of your key fob down for one second. This serves to activate your vehicle's security system. Watch as the interior lights activate, the headlights come on, the turn signals start flashing and listen as your horn sounds in an intermittent pattern. There are three ways to deactivate the panic button alerts. First, wait three minutes and the lights and sound cease. If you don't want to wait, hit the panic button again and hold it for one second to stop the alert. If you accelerate past five miles per hour, the panic alert stops. Your key fob serves as a car locator if you don't remember where you parked your car. Activate the turn signals and lights by simply pressing the unlock or lock feature on the fob.
What To Do If Alfa Romeo Keyless Start / Entry Is Not Working
In the event, that you have a dead key fob, and it is not working. Do not panic. The problem could be several different issues from a dead battery in your fob to a dead battery in your car. Contact our professional
service center
in Scottsdale, AZ to solve the problem.
Call or contact our dealership now for more information or a demonstration on using keyless entry and ignition functions. Our staff is always friendly and are happy to answer any questions you may have.