Alfa Romeo hasn't traditionally been a very well-known brand in the United States, but all of that is about to change thanks to their Quadrifoglio release in 2019. This is a luxury car to end all luxury cars. It's certain to change the reputation of the Alfa Romeo brand in the United States forever. Our dealership is here to explain to you just why this is such a special vehicle.
Soul of a Racer
The word Quadrifoglio itself means "four-leaf clover" in Italian, and we all know that the four-leaf clover meaning is associated with luck. When you buy a Quadrifoglio, you're definitely going to be lucky because this is one luxury car that truly has the heart of a racer.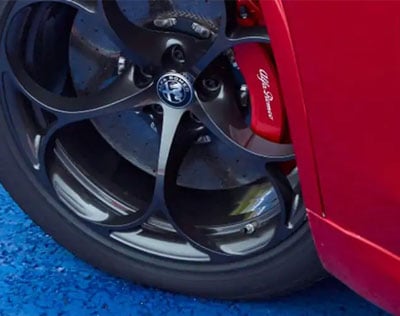 Standout features
Amazing style and grace present themselves in the exterior, but suffice it to say that the real power of this one is under the hood. Clocking in at 505 horsepower, 443 lbs-ft of torque, and a top speed of 191 miles per hour, this is one champion that's going to race by just about any competition. It goes from 0 to 60 at a mind boggling speed of 3.8 seconds. The powertrain isn't the only stroke of lucky you'll have with this one, though. There's plenty of charm and style to go around, too, with outstanding safety features and tremendous flourishes of luxury.
It's built with dynamic suspension for an entirely new driving experience unlike any other in the world today. It's truly something special in just about all performance aspects, from its "almost perfect" near-perfect 50/50 weight distribution to its F1 design. That's not all, though. The interior is going to make you feel like you just stepped foot in the world's finest luxury home.
Technology is built right into the cabin, with a beautiful 8.8 inch touchscreen display to put you in full control of your cabin features. The carbon fiber interior trim is nothing short of awe-inspiring, and of course, you get an amazing 14-speaker Harman Kardon® Premium Audio System with 900-watt, 12-channel amplifier and subwoofer, a system that will impress just about anyone who demands the best audio in their vehicle. And of course, the exterior sports the legendary the Quadrifoglio Verde, a green four-leaf clover symbol that tells the world you're just about the luckiest person in the world to be driving one of these cars. It's a luxury sedan with a racing heritage that anyone on earth should be proud to own. While the price tag is on the high-end, but for performance and luxury of this caliber, it's more than worth it.
Test Drive Today in Scottsdale
If you're up to the challenge, and want to own a luxury sedan that drives like a sports car, the Quadrifoglio is just the vehicle you're looking for. It's changing the name of Alfa Romeo design forever, with its first truly legendary performance vehicle, and a proud addition to the lineup. Sedan owners don't have to look for a sports car anymore. This one fits the bill just fine, while still sporting the luxury vehicle heritage on the interior.
Call us or visit our dealership in Scottsdale today to get your test drive of the Quadrifoglio.