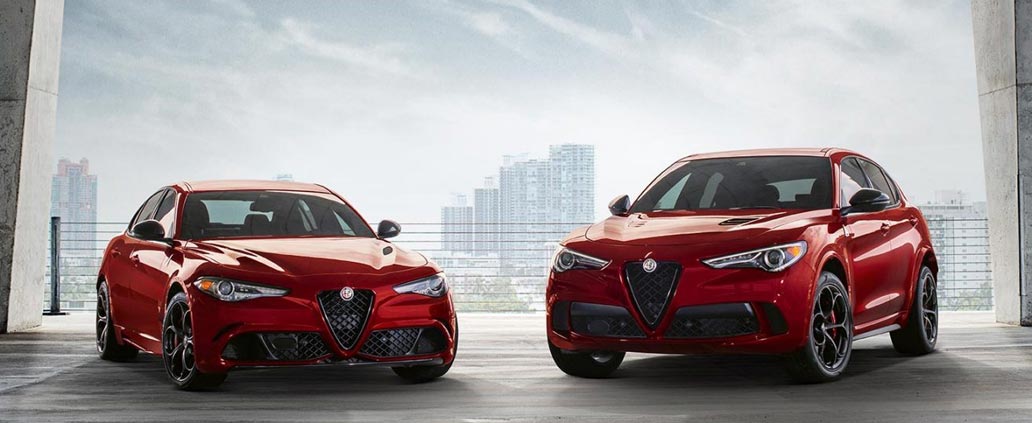 Elegance and Stability Come Together With Alfa Romeo
Alfa Romeo has a racing heritage going all the way back to 1911. Its history runs deep, and the brand has successfully competed in many different categories of motorsport. In 1995 Alfa Romeo ceased exporting cars to the United States, but in 2008 the company marked its return with the 8C coupe. Today, Alfa Romeo has arguably some of the most beautifully designed cars on the road. The styling is athletic and aggressive, and they have poured over a century's worth of racing development into their current lineup. Understanding that 2-wheel drive vehicles would limit their sales (especially in the northern parts of the country), they have included their all-wheel-drive system into the Giulia sedan and the Stelvio SUV.
The Stelvio is an elegantly designed SUV featuring excellent craftsmanship. It features Alfa Romeo's Q4 All-Wheel Drive system. This system is able to transfer up to 60% of the engine's torque to the front axle, maximizing traction and optimizing performance. The all-aluminum 2.0L turbocharged 4-cylinder engine produces 280 horsepower and 306 pound-feet of torque.
The world-class sports sedan Giulia is an exhilarating blend of style and performance. Like the Stelvio before it, Alfa Romeo's Q4 All-wheel Drive system is also available for those seeking the best traction and performance. This attractive sedan also has the all-aluminum 2.0L turbocharged 4-cylinder engine. The Quadrifoglio model has an all-aluminum 2.9L twin-turbo V6, and the Q4 AWD system connected to it makes the Giulia Quadrifoglio the fastest 5-passenger vehicle on the planet, rocketing from 0-60mph in only 3.8 seconds.
Discover the elegance, style, stability, and performance of the Stelvio and Giulia today at Alfa Romeo of Scottsdale.