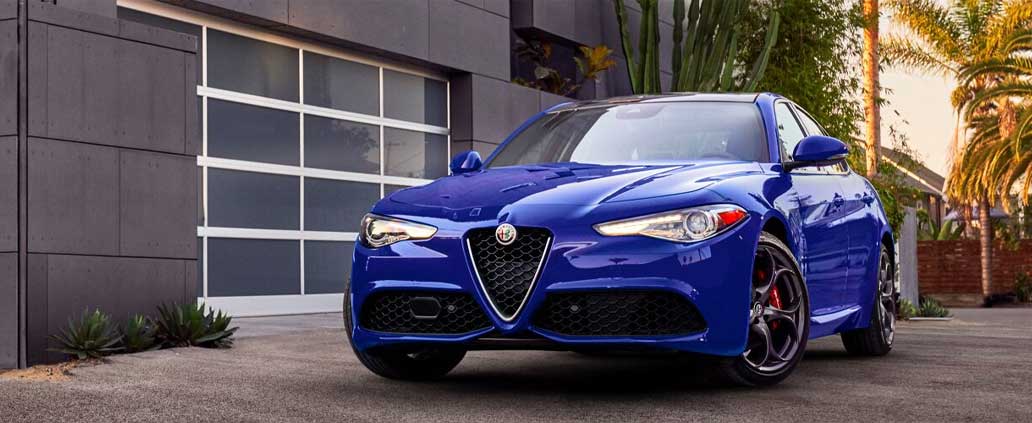 Since the Alfa Romeo Giulia's launch in 2016, it has earned a reputation for luxury, class, power and fun driving experience. Following its launch, the Alfa Romeo Giulia has received several notable updates and improvements.
Now, every Guilia features a sleek, contemporary cabin design and is also equipped with a user-friendly infotainment system. There are variations among the Alfa Romeo Guilia trims, including differences in engine availability, power production, and features.
Choosing an Alfa Romeo comes down to a matter of personal preference. Some models offer more in performance, while others are equipped with more standard features. Fortunately, packages are available on varying trims for added customization.
There are three main trims available in the Alfa Romeo Guilia collection. The first trim is the base Giulia. With this trim, you'll get a number of sporty elements such as high-performance Brembo brakes and a sculpted exterior with dynamic contours. The interior is just as appealing with several standard high-end features. With the base trim, you'll get an 8.8-inch infotainment display screen that supports Android Auto and Apple CarPlay. The base trim also includes satellite radio, which you can play using the eight-speaker sound system. Leather seats and dual-zone climate control complete the base trim's list of notable features.
The second trim is the Ti. This trim gets a few more features and standard amenities, including a heated steering wheel and heated front seats. Its exterior stands out with larger 18-inch wheels. There are also more options available through packages. The Active Driver Assist package, for instance, equips the Ti with many safety amenities. You can also get a performance package that adds sporty front seats, a limited-slip differential, and adaptive suspension.
The top trim level is called the Quadrifoglio. This trim gets upgraded Brembo brakes. It also has a unique front grille and a distinguished front fascia. The Quadrifoglio also comes with a roof and hood made of carbon fiber. Most of the features offered on the two lower-level trims are standard on the Quadrifoglio.
Another factor that can influence your decision may depend on what kind of performance and power you'd like from the Alfa Romeo Giulia. The base Giulia and Ti trims get a 2.0L four-cylinder engine. This engine creates 280 HP and 306 LB-FT of torque, driving power to the rear wheels. The Quadrifoglio has a more robust engine that produces 505 HP and 443 LB-FT of torque. All trim powertrains are mated with 8-speed automatic transmission for an ever-steady ride.
Contact us today for more information about the Alfa Romeo Giulia and the trims available. Our team of professionals look forward to helping you find the Alfa Romeo Giulia of your dreams.