Alfa Romeo AC Repair in Scottsdale, AZ
Your Alfa Romeo's air conditioning system is essential to your comfort each time you cruise around on warm weather days. After all, nobody wants to get sweaty and overheated while commuting back and forth to work, running errands and more. While your AC system is designed to provide you with reliable functionality, it will require service from time to time. This is because vital parts can get dirty or can wear out. Cleaning or replacing parts may be essential for the ongoing functionality of the AC in your Alfa Romeo. Our auto repair specialists are available to quickly improve your car's AC system, and Alfa Romeo of Scottsdale have the skills and parts to address all of your concerns.
Why Is My Alfa Romeo's Air Conditioning Blowing Hot Air?
When warm or hot air blows through your car's air vents, this is a sign that professional service is needed. Cool air could blow for a brief moment, but the air temperature could quickly warm up. If this is your current experience, the condenser, blower or compressor could require a replacement. Perhaps your AC's vacuum seals are leaking. For some Alfa Romeo drivers, only warm air blows through the vents as soon as the AC is turned on. Compressor clutch, fuse or valve problems could cause this type of trouble. The first step that our Alfa Romeo technicians will take is to diagnose the cause of the trouble. Once we determine the right repair steps to take, we will quickly complete the repairs so that you can continue to drive with cool air blowing from your AC vents.
Why Can I Only Get a Weak Flow of Air From My Car's AC Vents?

Your ability to adjust the airflow of your air conditioner is essential to your comfort. While there are many times when only a light flow of air is desired, there are also times when you need strong airflow to feel comfortable inside the vehicle. Weak airflow may be the result of damage to the car's evaporator case, air seals or hoses. Our diagnostic service will identify the cause of the problem and pinpoint its location. Through this diagnostic step, we can quickly proceed with the repair process.
What Can You Do If My Car's Air Conditioner Is Leaking?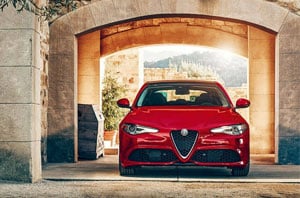 The signs of a leaking car AC system typically involve the airflow or the air temperature. These are signs that there is a gap or opening in the system, and this opening could be letting moisture inside your car's air conditioner. This is one of the more serious problems that your air conditioner can develop because it can lead to the refrigerant becoming corrosive. In fact, an AC leak that is not quickly diagnosed and repaired can result in your need to replace the entire air conditioner. Bringing your Alfa Romeo to us for immediate service is important if you have noticed any signs of a leak.
What Is Causing My Alfa Romeo's Air Conditioner to Smell Bad?
The air from your air conditioner should ideally be odorless, but dirt or mold growth inside the system can create a musty or rotten smell in the vehicle each time the air conditioner runs. An old, dirty air filter is one cause of this problem, and it can easily be rectified with a filter replacement service. A blocked drain line could also cause this foul odor. When the line is blocked, moisture can accumulate on the evaporator case and result in mold growth. For any diagnostic and repair service needs that your Alfa Romeo requires, we can help.