Are You Wondering, Where Can I Find An Alfa Romeo Tranmission Repair Center Near Me?
Transmissions are one of the most important components of modern cars. Unfortunately, they're also one of the parts that is most likely to be overlooked by owners seeking to keep their cars running in top condition and holding their resale value. In fact, transmissions are among the most prevalent causes of serious car problems, sometimes even leading to the car being outright scrapped. While many other car parts may cost on the order of hundreds of dollars to have repaired or replaced when they go bad, transmissions can cost upwards of $6,000 or more to replace once they blow out. This makes proper transmission repair and maintenance especially important for those owners seeking to keep their cars on the road for years to come.
The good news is that optimal transmission maintenance usually isn't all that demanding. Modern transmissions tend to be quite reliable and low maintenance, requiring servicing at rates far below other car parts, like brakes, spark plugs and lights.
When should I get my Alfa Romeo's transmission fluid changed?
Generally speaking, Alfa Romeos are not driven under conditions of extreme mechanical stress. This means that transmission maintenance schedules tend to be farther apart than is the case with other car brands. However, it is still important to know what an optimal transmission servicing schedule looks like for your Alfa Romeo. If you have any uncertainties about when you should have your Alfa Romeo's transmission serviced, please contact Alfa Romeo of Scottsdale today. One of our expert technicians will be happy to give you a scientifically derived maintenance schedule that is proven to both minimize costs and maximize the longevity of your vehicle.
Although there is no blanket advice that can be given as to what an optimal transmission maintenance schedule would look like without first taking into account a number of user-specific factors, there are a number of broad factors that reliably affect transmission maintenance.
What Are Some Factors That Affect Transmission Maintenance?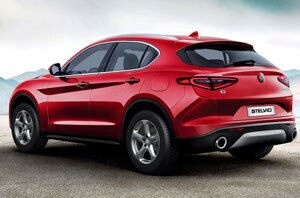 Firstly, the type of driving that is typically done with the vehicle and the general climate in the area where it is primarily driven can have a significant impact on shaping optimal transmission maintenance. Hotter climates can put significant added stress on the parts of a transmission, requiring more frequent servicing. Driving in stop-and-go or urban conditions can likewise impose additional strain on the transmission's parts. If your typical driving includes any of these things, you may need to have your transmission serviced and its fluid changed as much as twice the normal frequency.
Another factor is the type of transmission installed in the vehicle. Many Alfa Romeo's have manual transmissions. That is good from a maintenance standpoint as manual gearboxes can typically go up to 150,000 miles without major servicing. Manual transmissions simply have fewer moving parts and less friction taking place, giving them increased durability.
Automatic transmissions, on the other hand, especially of the complex modern variety, can require far more frequent servicing. Newer transmission types, like CVTs, may use clutches and other types of active friction nearly constantly. This produces increased wear on the transmission and generates excess heat. All things being equal, automatic transmissions will need to be serviced more frequently than manual ones.
Alfa Romeo of Scottsdale has decades of experience servicing Alfa Romeos and their transmissions. Our experienced techs have the skills and sophisticated tools to catch small faults before they grow into catastrophic ones. Schedule an appointment today.